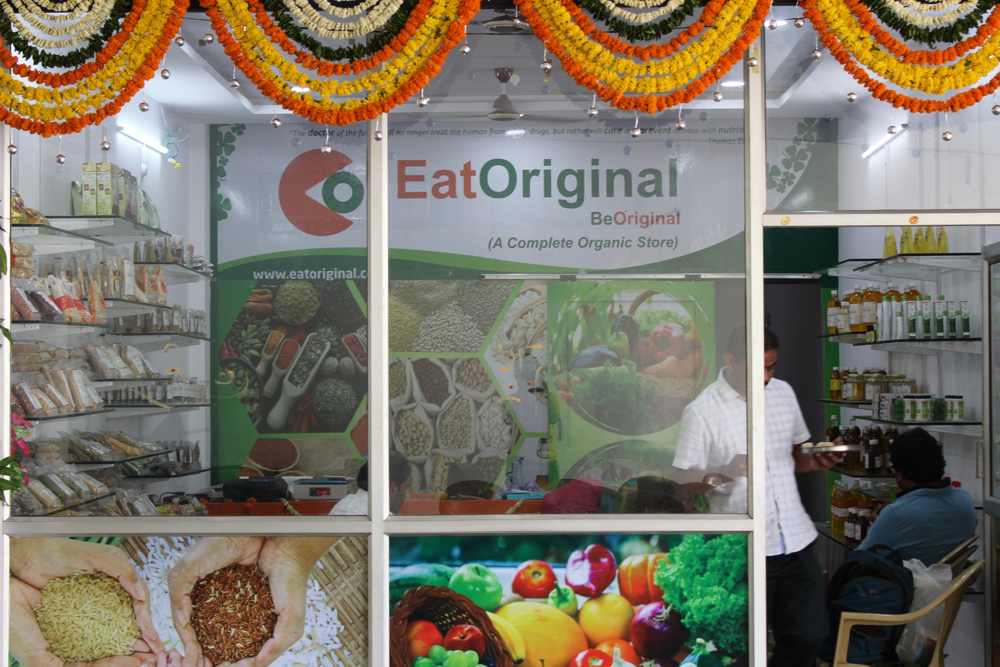 In the last decade or so, there has been a rise in the number of organic stores and farmers bazaars in the city of Hyderabad. This has been the trend world over and the twin cities have caught up on it too. Today there are many players in the market.
All this talk about eating chemical free food, adopting an organic sustainable lifestyle etc - is this a fad, a new age fashion or an exaggerated alarm created by a few? No, the harms of chemicals in our food indeed poses a grave threat and needs immediate attention and action.

Irreversible neurological disorders/ diseases including autism; Auto immune diseases; Cancers of various kinds; Digestive disorders; Learning Difficulties; Diabeties; Arthritis; Mental and Behavioral disorders and the list goes on - can all be traced to dangerous chemicals and pesticides that are found in our food/ environment.
Even families that eat healthy and balanced food have been affected since what is healthy today depends not only on what you eat but how what you eat is grown!

This links below have details about the extent of pesticides and harmful chemicals found in edible products in the city of Hyderabad -

https://timesofindia.indiatimes.com/city/hyderabad/chemical-concoction-pesticides-in-veggies-and-fruits-harm-hyderabad-children/articleshow/6512676cms

http://csa-india.org/wp-content/uploads/2014/11/2007-Pesticides-Residues-and-Regulation-in-India-a-case-of-vegetables-in-Hyderabad.pdf

Organic Food is no doubt expensive and one needs to know where to procure it from. Here is a list of 6 outlets in the city that we checked out for our readers -
1. Sage Organics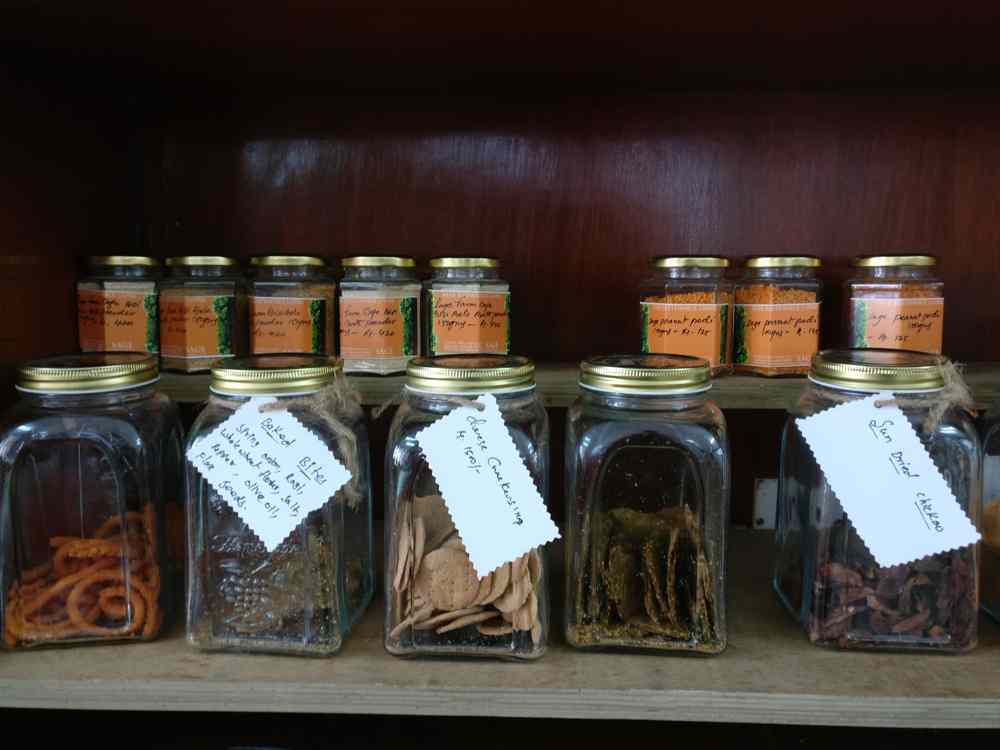 SAGE, owned by Kavita and Ravi Mantha, opened its doors in 2016 at Jubilee Hills. Before that the store operated under the name of Hyderabad Goes Green and was located in Banjara Hills. For Kavita and Ravi Mantha, who moved from overseas, the level of contamination in our food in India was worrisome.
Finding toxic levels in food quite severe, they wished to do something about it. "Ensuring our kids were able to eat safe food was a critical driver to get into the Organic Space." says Kavitha one of the owners of the store.
Speaking about their mission through their store, Kavita remarks, "We don't just sell vegetables and groceries, we sell a lifestyle. We know our customers, we understand their needs and are constantly improving our offerings to ensure they have access to safe food for all occasions."
Their clientele span across the board, are people engaged and interested in quality.
They care about where their food is grown and how and understand the impact of ignoring such a critical input.
From youngsters to expats, tollywood stars to new parents, their customers are from different walks of life. Apart from selling in the store, they also deliver to areas upto Punjagutta and to the communities beyond ORR. They are looking forward to moving to a new premise to expand their current offerings.
Their Product range -- naturally grown vegetables, fruits, meats, groceries; homemade products like jams, snacks, pickles, sauces, sun dried produce et all - made without any chemicals or enhancers.
To Ensure Quality, they work closely with farmers to understand the processes they use to grow their vegetables, but with 250 acres under cultivation, a lot of their produce comes directly from their own farms.
They have now been farming for nearly four years. "Every year and every new season brings new learnings and we look forward to in the future to share the same with other farmers." signs off Kavita
2. Kosagaram
#Sy. No. 124/P, Adjacent to HP petrol pump,
Indira Nagar, Gachibowli Main Road,
kosagaram.gachibowli@gmail.com
9652311188
#OU Community Hall, OU Colony,
Beside Meeseva Venter, Manikonda Road, Shaikpet,
Mobile: 9652311155
Email: kosagaram@gmail.com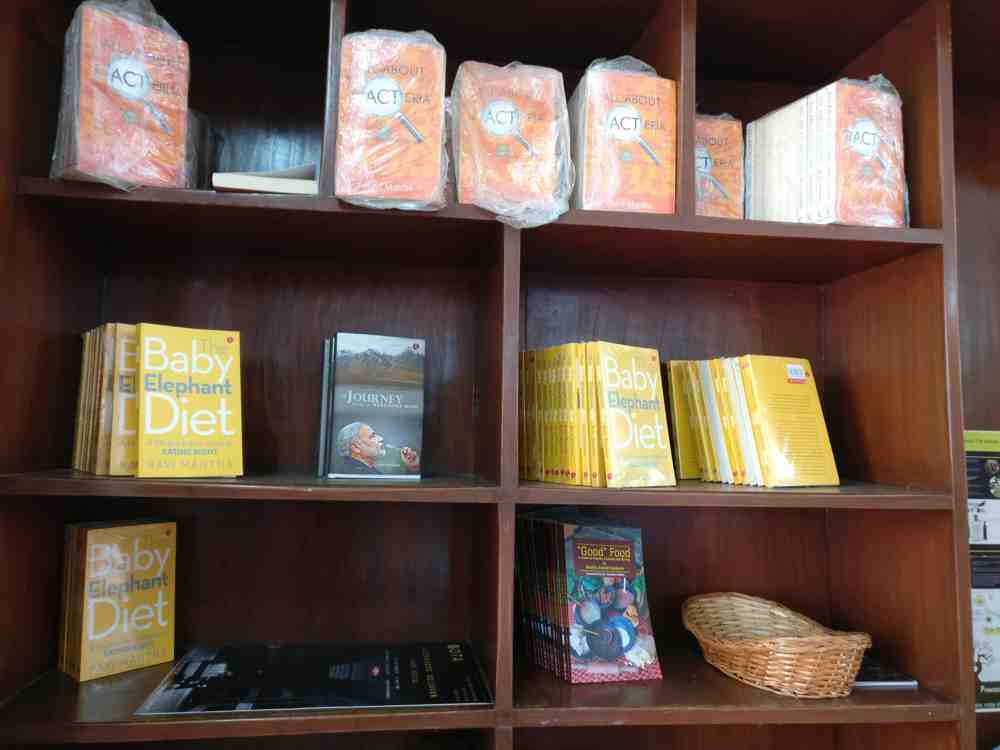 Started with one branch in Manikonda by Kushi Chand Vadde, this store now has two outlets. They procure from organic farmers across the state and nearby. They stock dry groceries and an extensive range of perishable fruits and vegetables. They door deliver all their products.
They have a whatsapp group for customers with regular updates about their stocks.
3. Clover Organics
Shop no. 8, Srila Park Pride,
Behind SBI, Near Miyapur Metro Station,
Mobile : 8247212981
Telephone : 040 - 23040768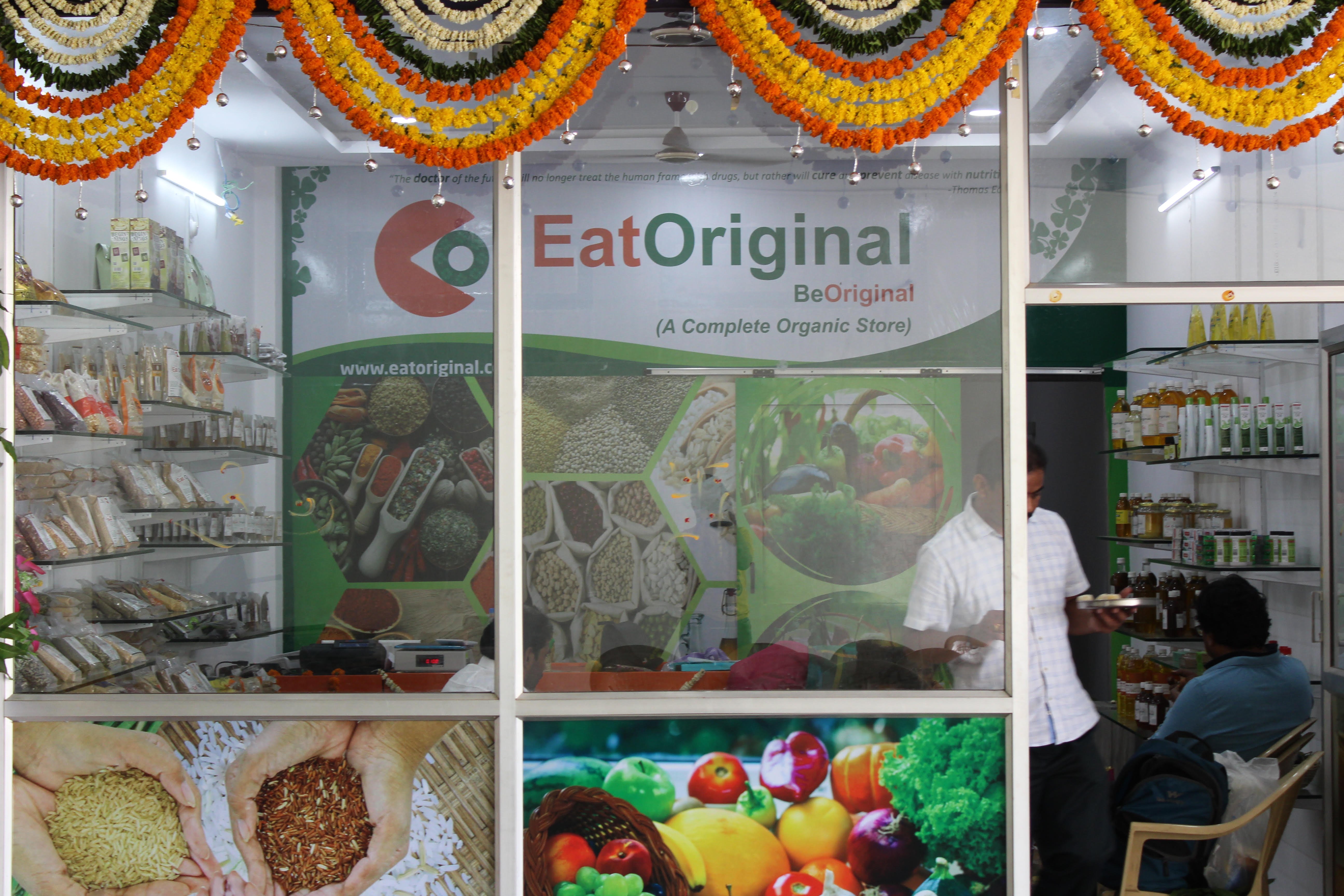 This store was started in 2016 after understanding organic farming supplies and market demands. Mr. Kiron who is the owner, hails from an agricultural family with a strong passion to make safe, chemical free food available for public.

They stock all cereals, pulses, millets and other dry groceries as well as perishables such as fruits and vegetables. Their door delivery system covers the entire twin cities. The procure from certified organic sources to ensure quality and purity.

The past 5 years, Clover Organics has also been involved in training farmers in organic farming and have also started organic cultivation in their own farms. They hope to open more stores in other metros and small towns to make organic products accessible to all.
4. Vibrant Living Foods
Mobile:+918096091111/ 965229171
E-mail: sridevijasti@yahoo.com, hillssridevi@vibrantliving.in
Website: www.vibrantliving.in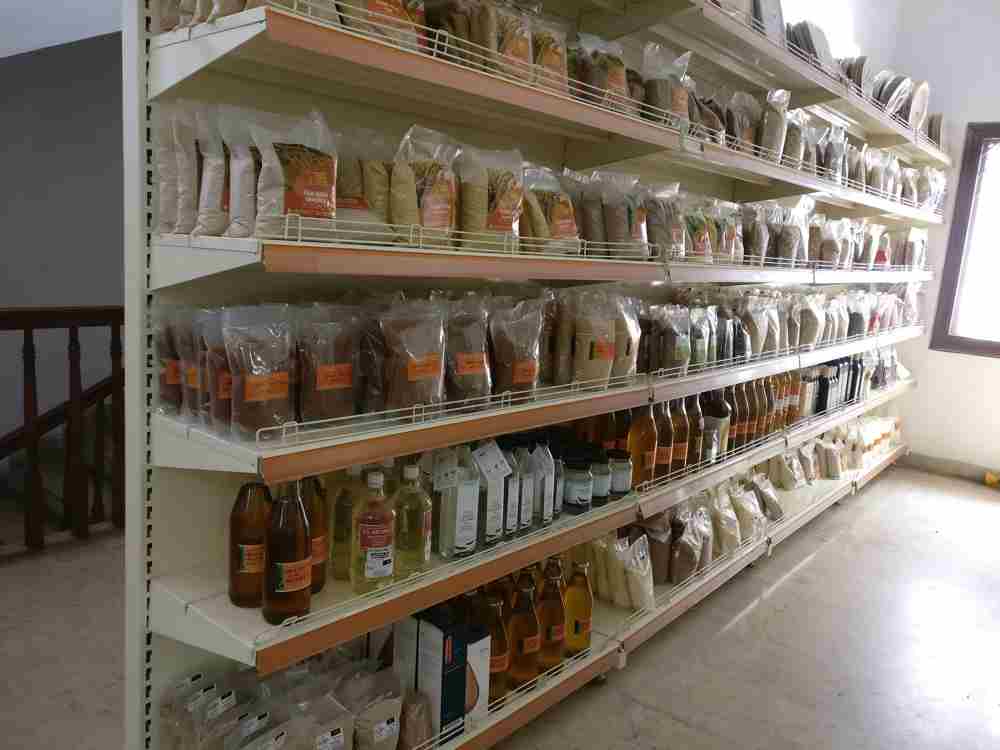 Started by Sridevi Jasti, Vibrant Living Foods stocks a wide range of sweets, savories, jams, spreads as well as organic groceries and select perishable seasonal produce.
They have periodic open house sessions. Besides getting to know about their products, customers also understand various health issues and the role of specific foods. They also door deliver smoothies and meals to individual customers.
5. Good Seeds
GoodSeeds was started in 2011. They warehouse all their products at Film Nagar, which acts as a physical store for locals.Their idea is larger than organic. It is more about facilitating lifestyle choices that are sustainable. "For us, "Sustainable Living" means living in harmony with nature and creating value to our society." emphasizes Narayan Murthy.
Their USP lies in their knowledge about what they sell - be its origin, authenticity, uniqueness, and how to enjoy the maximum nutrition and taste from what we sell. They also have the largest number of organic items (2000+ unique SKUs) anywhere in South India.They organise a monthly market to bring community together and excite people around the ideas on sustainable living.
Apart from having a large client base from people of all walks of life, they also cater to home bakers, home-based organic food makers (pickles, snacks, etc), who need specific organic items. Their main model is door delivery and the online portal is goodseeds.in.
They also plan to launch a mobile app soon. In the future, we want to setup small retail outlets managed by women, where the store will stock daily essentials and fast moving items, and will have access to the entire catalog to supply to customers. Product Range includes -- fruits, veggies, groceries of all kinds (staples, spices, oil, sugars, salt, ..), home garden, earthen pots for cooking, personal care (body care, hair care, oral care), home care (detergents, cleaning supplies) and will expand on these.
We focus on freshly prepared items of late - freshly baked items, spreads & dips, freshly made desi cow ghee, and more.
"We have a long relationship with many of our sources, some of whom inspired us to start goodseeds. They have helped us secure reliable sources. Any new supplier to our network is based on referrals from our current network and they do provide us a good idea on their methodology (production, soil preparation, testing, pest control, sorting/grading, etc.). We share close relationships with all our regular suppliers and randomly check for a few things as well." says the Founder Narayan Murthy
6. Daana
Mobile : 9177882260
E-mail : daanateam@gmail.com
Website: www.daana.in

Organic/Pesticide free by default
The following items are not sprayed with harmful chemicals by and large
Custard Apple / Seethaphal
Pineapple
Sweet Potatoes/Rath alu/ Chilakaldumpa
Gooseberry/Amla/Usirikkai
Sweet Lemon
Insist that the following are Organic at all times
Tomatoes
Chillies
Greens
Grapes
Apples
Strawberries
Note : This is not to say that others items can be bought from non - organic sources. It is always safer to use chemical free products

Watch out this space for more information on organic farms at a later date.
More awareness, more demand for organic products will help bring down the cost and make the whole organic industry sustainable. Therefore we have individuals have a role to play.